TUNE IN to Wildoak Living Monday, Aug 3 at 9am: Common Vision's 'Grow Fruit-Grow Power' PLUS WILDFIRES & AIR QUALITY and CALL-IN ABOUT ROCKY FIRE
Join Johanna "Wildoak" for a live broadcast of Wildoak Living, the radio program about living sustainably in Mendocino County and beyond. Johanna "Wildoak" talks with Leo Buc, Executive Co-Director of Common Vision, a non-profit that delivers inspirational environmental education.
Johanna will also air an interview with Robert A. Scaglione,  head of Mendocino County Air Quality about the health impact of smoke from wildfires and then will open the phone lines to call-ins about the Rocky wildfire in Lake County.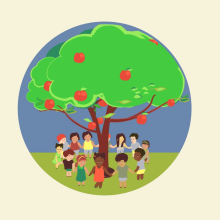 Every child deserves the chance to benefit from having a direct relationship with healthy and organic food. But social inequality deprives many kids of this right. By creating organic fruit orchards at low-income schools, Common Vision has created this relationship for more than 100,000 children.
Common Vision has planted more than 6,000 high-yielding, low-maintenance and low-cost school gardens with fruit trees in hundreds of schools throughout California over the past 10 years. These orchards produce 150,000 pounds of organic fruit every year (so far) and they are also living classrooms where kids learn about environmental science, climate change, nutrition, and teamwork.

Working with hundreds of schools throughout California, they've had the incredible opportunity to educate students on how important their relationships with food are; through fostering community action, they have empowered students to take direct responsibility for their own health, as well as that of the planet for future generations.
Common Vision is launching the Grow Fruit - Grow Power campaign, aimed at providing organic school-grown fruit, eco-literacy, and health education to 1,000,000 more kids. By 2025, they are aiming to have orchards in 1,000 schools. You can find more info about Common Vision and their 'Grow Fruit - Grow Power' campaign, including a video, here:
https://www.indiegogo.com/projects/growfruitgrowpower-common-vision#/story

To find out about future programs or to send feedback, questions or topics, 
please email This e-mail address is being protected from spambots. You need JavaScript enabled to view it.
How to listen to WILDOAK LIVING:
- Listen live to Wildoak Living on the radio or online every other Monday at 9am Pacific Time
 on KZYX (Mendocino County Public Broadcasting) at 88.1, 90.7 and 91.5 FM in Mendocino County and in Northern Sonoma, 
Lake and Southern Humboldt counties and on the web at www.kzyx.org


- Listen anytime to archived podcasts of Wildoak Living 
and find more information about previous topics and guests at wildoakliving.org. That's a great way to catch up if you miss a program or if you'd like to share a program with someone else.

- Podcasts of the most recent programs are also available right after the program airs at http://jukebox.kzyx.org/. 

Please support your public radio station. You can donate to KZYX and become a member at www.kzyx.org

Thank you for listening to Wildoak Living and for supporting public/community radio!
Tags:
air quality
,
children
,
climate change
,
Common Vision
,
eco-literacy
,
environmental education
,
fruit
,
Grow Fruit - Grow Power
,
health
,
health education
,
Mendocino County Air Quality Management District
,
nutrition
,
orchards
,
organic food
,
Rocky wildfire
,
school gardens
,
schools
,
smoke from wildfires
,
social inequality
,
teamwork